Check here for CBC Cancelations
ANDERSON BC - Games cancelled when the Forest Hills Schools close
---
Feb 11 NLM Newsletter
---
Learn to Play Software(Free - Windows (PC):
Bridge Basics Beyond the Basics
Major Events -
---
Good Ethics - Larry Cohen!

►All Larry's Articles
Partner Makes a Slow pass (1 of 2) Partner Makes a Slow Pass (2 of 2) Other Tempo Issues (1)
Other tempo Issues (2) Snapping Cards and Other Annoyances

---
NEWS
Special

Board of Governor's Report

on ACBL Finances.

Don't forget to

nominate your favorite bridge teacher for the ABTA's "Teacher of the Year" Award

. Complete a Nomination for at one of these sites: www.abtahome.com or www.teachbridge.com . Nominate your favorite teacher

before April 15, 2016

. Questions? Contact Joyce Penn at abtaTOY@gmail.com .


January 2016 eMagazine
is now available. Big file (6 MB) - use a high speed connection for best results.



D11 GNT Winners! - Unit 124 members are on all 4 winning teams! Congratulations to everyone


JANUARY 2016 Issue

- LARGE FILE 17 pages 2.7 MB




CONGRATULATIONS! CBA MEMBERS ON THE MOVE



New Members:

Sanford Chertock. Glen Fulton, Karne Husky, Ellen Miller, Linda Palmer, Subodh Wadhwa, Marie Wasserman


Transfers:

Karen Johnson, Alfred Norwood.


RUBY LIFE MASTER: Bobby Carter




SILVER LIFE MASTER: David Dressman, Dennis Schultz




BRONZE LIFE MASTER: Mickey Dasenbrock


LIFE MASTER: Harriet Edwards
Others with promotions: Jeanne Bossart, Joanne Essig, Frances Hamilton, Katherine Hayes, Susan Laffoon, Jolene Schwab, Dorothy Caster, Claudia Cummings, John Diers, ANn Heldman, Betty Murdock, Erin Oblinger, Pat Olexey, Terry Raulin. All Rank Promotions are updated through February 1, 2016. See Milestones - Members on the Move for details! As of December 2015, the ACBL established new Life Master ranks. For details see our Members on the Move Page or go to the ACBL Masterpoint Rank Page.
---
New CBA directories are available at the CBC. Pick yours up now - better still, use our online directory!
◄
Online Member Directory
.
Click the icon. Password Required.



---
CONGRATULATIONS!
Isaac Stephani Qualifies for the
World Junior Championships!!!!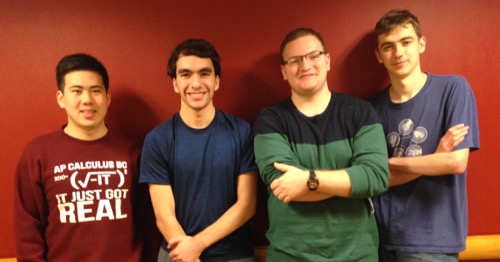 Damiani Cup U21


Salsamaggiore Italy
August 3 - 13, 2016.
The USBF competition completed in Atlanta GA earlier this week. See BridgeWinners for more details.
Nolan Chang, Hakan Berk, Isaac Stephani, & David Soukup

---
Looking for Bridge Lessons? We've got 'em!
Check out the offerings for beginners and intermediates starting in January.
Winter 2016 Lesson Calendar
---
A. Beth Reid's Board of Director's Report to District 11.


Steve Moese's Board of Governor's Summary to District 11.

Large file 4 MB.

---
Need more help finding partners at the CBC? Contact Joanne Earls jolman@fuse.net

513-772-4395, 513-478-2033.